Payra Port Authority PPA Job Circular 2020 New update at www.ppa.gov.bd. Online apply ppa.teletalk.com bd now. Recently new notice at Online and Official website. You can read this Wikipedia link. We also flow the Government jobs news and Company jobs news find here. Payra Port Authority Job circular 2020 in Bangladesh. SSC, HSC, Honours pass student can apply this Payra Port Authority job circular. we are also Exam Admit Card, Written Exam date, Viva date, MCQ question, and all exam notice publish here.
Payra Port Authority New vacancy Notice full Hd and jpg size available our site at www.nuacresults.com. Most of the candidate applying for the jobs. So you can apply for the jobs circular 2020. are more posts and Qualifications to apply now.
Payra Port Authority PPA Job Circular 2020
Company/Organization: Payra Port Authority (PPA).
Publication Date: 14 September 2020.
Job Type: Government Jobs
Educational Requirements: See circular below…
Official Website: www.ppa.gov.bd
Application Fee: Depend on the post name
Online Application Start Date:
Apply Deadline: 27 September 2020.
Salary: See circular below
Age Limit: Maximum 30 years
Total Post: 110
Job Location: Mention below circular
For more job information see below this original Hd and jpg size circular 2020.
How to apply
Visit

http://ppa.teletalk.com.bd

and select the preferred position based on your eligibility and interest.
Go to the next step and fill out the application form with all the necessary information.
In the next step, upload a recent color photo. It is recommended that the length of the photo is 300 pixels and the width 300 pixels. The image must be in JPEG format and the maximum file size is 100 KB.
Upload a scanned signature to the signature option. The length of the sign must be 300 pixels and the width 80 pixels. The signature must be in JPEG format within 60 KB.
If all the information is correct, then submit the application form.
If you submit the application form correctly, you will receive an applicant copy. Download it and print color if possible.
Your applicant copy has a user ID. Pay the application fees through Teletalk with this user ID
1st SMS: PPA<space>User ID sent to 16222

Example: PPA ABCLSL

2nd SMS : PPA<space>Yes<space>PIN and sent to 16222
Example: PPA Yes 5752258
PPA Admit Card & Exam Date 2020
#পরীক্ষার_নোটিশ
পায়রা বন্দর কর্তৃপক্ষ।
উপ-সহকারী প্রকৌশলী (সিভিল/ইলেকট্রিক্যাল/মেকানিক্যাল)
সময়সূচীঃ ০৯/১০/২০২০, সকাল ১০ঃ০০- ১১ঃ০০
পায়রা বন্দর কর্তৃপক্ষের ৪৫টি পদের মৌখিক পরীক্ষার সময়সূচী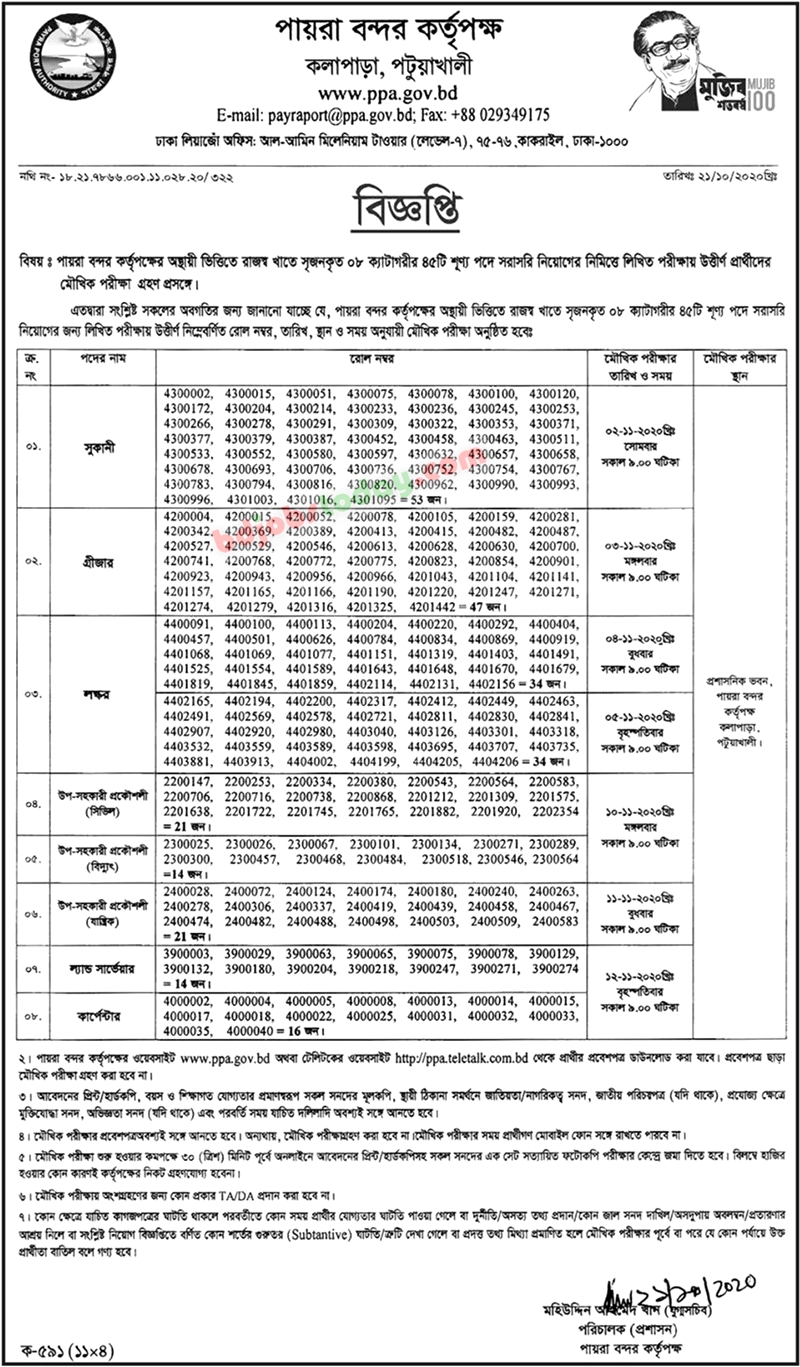 Payra Port Authority PPA Job Circular 2020 – www.ppa.gov.bd. Payra Port Authority written exam date and Admit Card Download will be published soon. You can Download PPA Teletalk Admit Card from the Official site. PPA Written Exam date, PPA MCQ Test All update here
You May Like Also>>